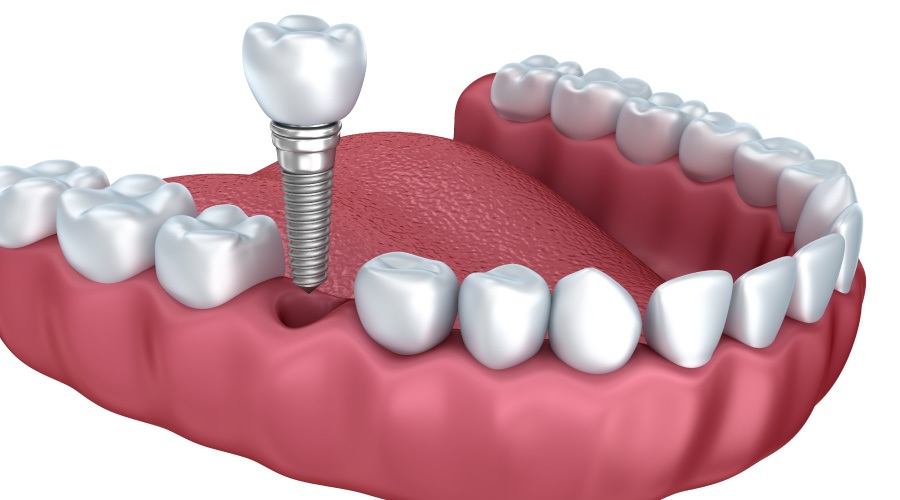 Dental implants are a superb tooth replacement solution that provide many benefits. They look and feel natural, prevent sagging cheeks and jawbone deterioration, and will last a lifetime with proper care. Maintenance is easy since the same oral health habits that keep natural teeth healthy will preserve the integrity of your dental implants.
At our dental office in Forest Hill, TX, you can restore your smile to full function with dental implants. Read on to learn about dental implants, including how to know if your jawbone is strong enough to support them.
Endosteal Dental Implants
An endosteal dental implant consists of a biocompatible rod that is safely drilled into your jawbone. This rod functions as a replacement tooth root. Once it heals and is integrated into your jawbone, it is a firm anchor for your restoration. The number of implants and the type of restoration you receive depends on how many teeth you need replaced. Restorations include a crown, dental bridge, and implant-supported dentures.
Am I a Good Candidate for Dental Implants?
To determine whether you are a good candidate for dental implants, schedule a consultation at our Forest Hill dental office. We'll discuss your oral health habits, dental history, budget, and smile goals, and evaluate the health of your jawbone and gums.
Bone Augmentation for a Weak Jawbone
When all your teeth are in place, chewing forces travel down the tooth into the jawbone to stimulate cells called osteoblasts. Osteoblasts grow bone. But when teeth are missing, these areas of the jawbone don't receive the same stimulating forces. Cells called osteoclasts, which break down bone, become more active than the bone-building osteoblasts. An excess of osteoclast activity can therefore cause areas of your jaw to deteriorate and become weak.
If we determine that your jawbone is not strong enough to support dental implants, we may recommend bone augmentation. A bone graft can strengthen your jaw to improve the likelihood of dental implant success. These procedures depend on where the bone atrophy has occurred. For example, a sinus lift is to improve strength in the premolar and molar area of the upper jaw, and a ridge expansion is needed if the jaw is not wide enough.
Dental Implants in Forest Hill, TX
Are you ready to restore your smile with dental implants? Schedule a consultation with Nova Family Dental in Forest Hill, TX. Our friendly team looks forward to hearing from you!